One year after the disappointing Note7 saga, Samsung is back with Note8, with the beautiful large 6.3" infinity display and new dual camera functions. The size is slightly bigger than S8 Plus and comes in 3 colours at launch, namely Midnight Black, Orchid Gray and Maple Gold. The retail price is at S$1398 and pre-order comes with a complimentary DeX Station (worth $198). Telco contract prices will be released next week so stay tuned! Pre-order
Will you be getting it or will you be waiting for the upcoming iPhone 8 reveal in September? Or getting the similar but cheaper S8 Plus?
After comparing it to S8 Plus, BQ finds that the Note8 is slightly harder to handle due to the squarish and larger design. The Note8's battery is also smaller compared to S8 Plus, no doubt due to Samsung trying to avoid another Note7 explosion saga. So if you don't really need the S Pen functions and would prefer a longer battery life, get S8 Plus but if you love to take notes with S Pen and the better dual camera, definitely go for the Note8!
Click here for Note8 specifications and details >>
Pre-Order Details:
Galaxy Note8 RRP $1,398 
Pre-order now and get a complimentary DeX Station (worth $198).
What's in the box: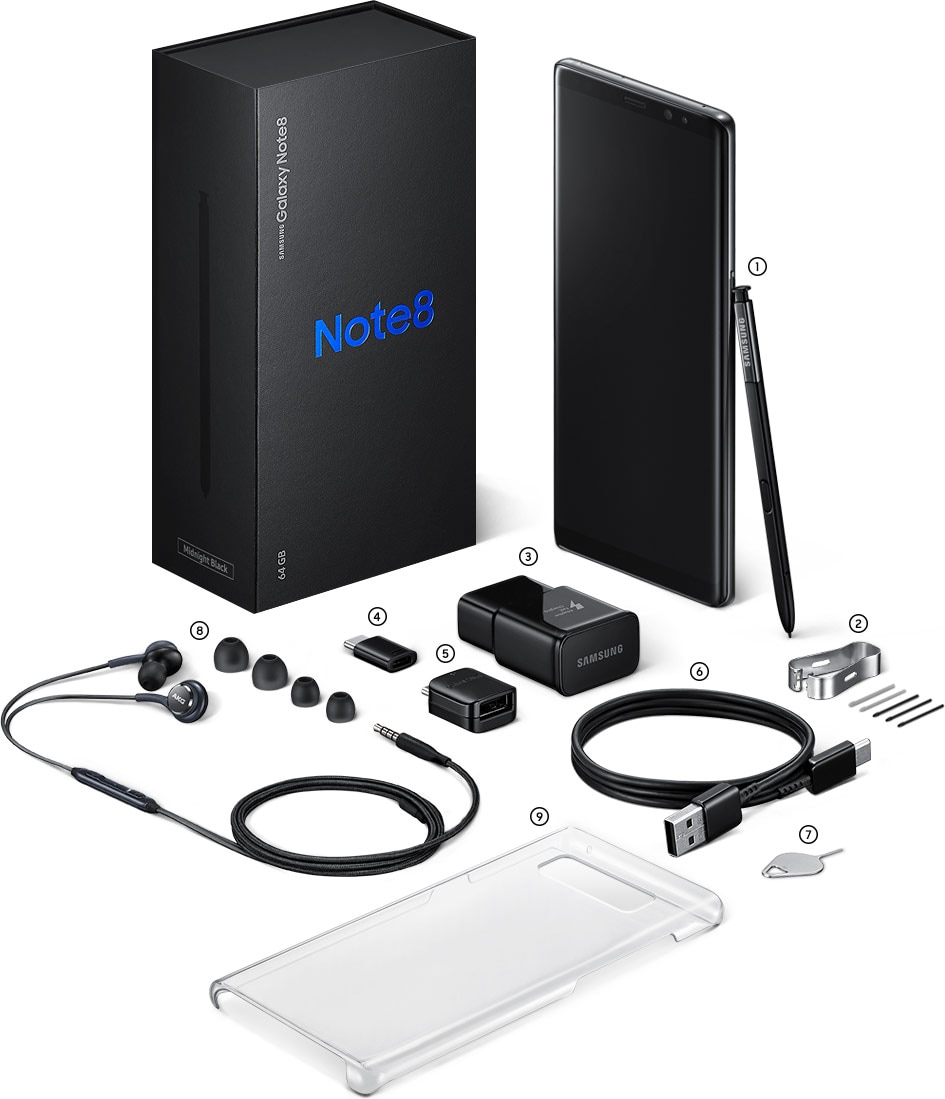 Components
1. Device with S Pen
2. Tweezer and Pen nibs
3. USB power adaptor
4. Micro USB connector
5. USB connector (USB Type-C)
6. USB cable
7. Ejection pin
8. Earphone
9. Case
Colours Available at Launch (Deep Sea Blue is likely to be launched at a later time):
Register your interest with contract:
Pre-order without contract:
Pre-order customers will be able to collect their phones from 9 September onwards. The official launch date of Note8 is 15 September 2017. You will receive an additional  S$100 Samsung Accessories and Wearables Voucher if you pre-order the phone without contract at the official stores above.