If you are unable to view this email, Click here to see it in your browser.
To ensure you receive our newsletter, please add "[email protected]" to your address book.
| | |
| --- | --- |
| | |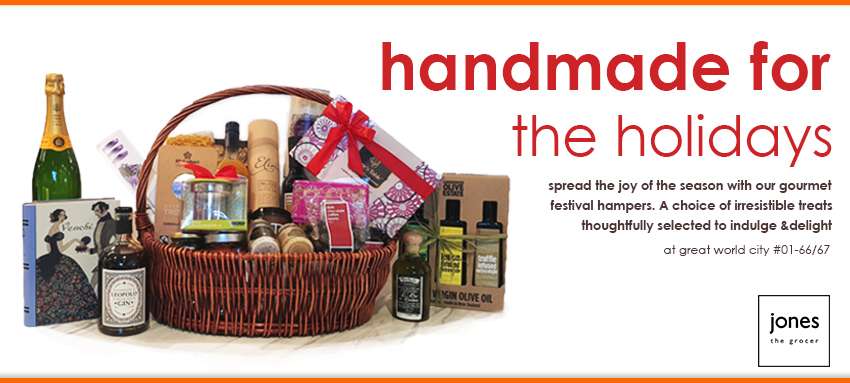 For new member sign up (with min. spending of $100), we are giving away:
a.Welcome Gift +
b.Lifetime Membership +
c.Additional 100 points on top of your spending.

• Terms & conditions apply.

Treat yourself to a 2-course lunch set ($28++) or 3-course dinner set ($32++) at Cedele All-Day Dining outlet!


Craving for more Hong Kong dishes? We bring you another series of authentic Hong Kong dishes, indulge in popular dishes such as Crispy Smoked Duck, Deep-fried Cheese Ball with Baby Abalone and many others. You will definitely be spoilt for choice!

• Valid till 30 Nov 2017.
• Terms & conditions apply.

Back by popular demand - embark on a culinary journey into the rich traditions of Jiangnan cuisine at Crystal Jade La Mian Xiao Long Bao! Enjoy delicacies like Sautéed Shrimp with Long Jing Tea, Deep-fried White Bait with Spicy Salt and more for only $1 each.

• Valid till 30 Nov 2017.
• Terms & conditions apply.

LAC Taut® Collagen Drink plus Placenta (50ml x 8 bottles) at 25% OFF for 1, 30% OFF for 2 or more (U.P. $99.95).

• Valid from 15 Nov - 31 Dec 2017.

Check out irresistible offers on our latest sofa additions at HomesToLife. Visit us today!

• Valid till 30 Nov 2017.
• Terms & conditions apply.

Aromatherapy, Hair & Body Care and Facial Care Gift Sets for every budget. PLUS! New arrivals, special prices, and exclusive gifts with purchase worth up to $50.

• Valid till 14 Jan 2018.

Merry Christmas! Enjoy this joyous season with our New Fruity Maru Pancake at $1.50each!

• Valid till 31 Dec 2017.

#01-41 | Prints
#01-42/44 | iORA
#01-66/67 | Jones The Grocer
#01-K8 | Aveda Micro Experience Center
#02-15 | HomesToLife
#02-20A/B | Yacht 21
#03-15 | Moyem Medical Aesthetics


#01-K2 | Tea Tree Cafe
#02-07/08 | BooksActually


• B1 The Market Square

Now till 12 Nov | Sale of kids apparels and furniture by Kids Walk

13 Nov ~ 3 Dec | Yankee Candle Christmas Fair

• Event Space A

3 ~ 19 Nov | Christmas Fair by Marks & Spencer

20 Nov ~ 3 Dec | Sale of home appliances & electronics by Best Denki


• L1 Atrium

3 ~ 7 Nov | Sale of fashion apparels by Hush Puppies

8 Nov | Zumba Mall Workout by HPB

9 ~ 12 Nov | Jaguar & Land Rover Car Roadshow by Wearnes

13 ~ 21 Nov | Popular Book Fair

22 Nov | Zumba Mall Workout by HPB

23 ~ 28 Nov | Sale of office supplies & stationery by Evergreen

• Kiosk 1 | Watches & Services
Sale & repair of watches

• Kiosk 2 | East Silk Palace
Sale of kids apparels and accessories

• Kiosk 3 | Fashion India
Sale of Indian clothing, bags, clutch purses, scarves and accessories

• Kiosk 4 | CD Plus
Sale of music CDs
Stand a chance to win an Alice in the Wonderland themed cake (worth $300) for your baby's next birthday simply by purchasing any Oribel product from our store!

• Valid till 25 Dec 2017.

Polar Cola Brownie - Fudgy Brownie made with rich Cocoa Dark Chocolate and Cola. Simply appetizing!

There's so much to do and see in New Zealand. Indulge in your fascination and discover the wondrous scenery, beautiful season or venture into amazing adventure like Glacier Walk and Heli-Hike. Ready to go? Show us this and get exclusive offers!

• Valid from 30 Nov 2017.

50% OFF selected Prints products, ranging from notebooks to different lifestyle products such as desk accessories and storage boxes.

• Valid till 28 Feb 2018

New Seasonal Menu available now!
-Tangy Patty (salad at $12.80, wrap at $12.60)
-Baywatch (salad at $13.80, wrap at $13.60)

Panicking about what to wear at all your holiday parties? Fear not, we have an extensive range of the latest ladies' fashion. Choose from our wide range of sizes and styles. Something for everyone!

Introducing Texas Chicken Ganjang Chikin, fresh and juicy chicken coated with flavourful Korean soy sauce. 2pcs Ganjang Chicken combo meal at $10.40 comes with regular soft drink, regular cheese fries and signature honey butter biscuit.

• Valid till 29 Nov 2017.

Almond Milk & Honey Festive Picks at $36. Consists of Shower Gel (250ml), Body Butter (50ml), Hand Cream (50ml) and Bath Lily.

Brand new Lucy Scenterpiece, the warmer has a sophisticated glaze that has been dipped in ywllow color covering an uncoated white ceremic, adding a classic touch to any decor. The bright color is sure to bring festive cheer to any home. Get the Lucy Scenterpiece Warmer with 3 Holiday Melt Cups for $69.90(U.P. 125.60).

• Valid from 15 Nov - 31 Dec 2017.
• While stocks last.
• Terms & conditions apply.
This message is confidential and intended only for named addressee(s), please notify us immediately and delete all copies if you have received in error. We do not guarantee that this email or its attachment(s) is secure, error-free or virus-free. Neither the Company nor the sender accept any liability for any errors or omissions in this message or any damage caused therefrom.