To ensure delivery of our newsletters into your inbox, add
[email protected]
to your address book
If you cannot view this message properly, please visit
here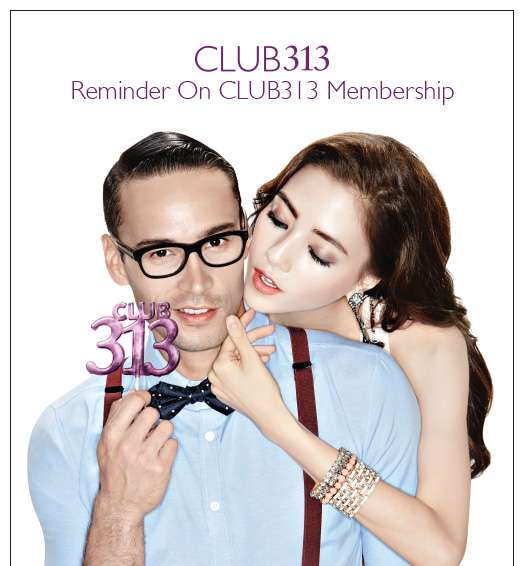 Dear Kai,
VIP passes to public events @313, bonus lucky draw chances, portable chargers for loan at Concierge, special birthday surprises...you're already familiar with the host of privileges that CLUB313 membership offers.
As you're also aware, renewal of CLUB313 membership requires you to accumulate a minimum spend of S$1,000 @313 within 12 months.

As at 01 May 2018, you've accumulated S$0 spend.

If you do so, you can look forward to even more exclusive and exciting events in the coming year - including styling workshops, fashion previews and other seasonal promotions. You'll also continue to receive all the benefits of CLUB313 while earning CLUB$1 for every S$1 clocked*, which you can accrue and redeem for shopping vouchers, parking fee waiver with your CLUB$ and other amazing rewards.
We hope that you'll shop @313 to renew your CLUB313 membership!