Let GrabFood help you save over $10 on Häagen-Dazs ice cream. Get a pint in a surprise flavour for just $4*!
Due to overwhelming demand, their pre-orders are currently full but if you're within the proximity of the Tampines Mall, Westgate, Junction 8, Holland Village, ION Orchard and Orchard Hilton outlets, you can still place your order on the app this 2 & 3 June from 2-5PM.
Only 100 pints are available at each outlet, so get yours while stocks last and don't forget to apply the promo code at check-out to offset delivery fees!
*T&Cs apply.
Promotion: Get a Pint of Häagen-Dazs Ice-Cream for just $4 (UP $14.50) with GrabFood
Validity: Till 3 June 2018, from 2 - 5pm
Coupon Code: HAAGENDAZS
Delivery Locations:  Limited to areas around Häagen-Dazs outlets situated at Tampines Mall, Junction 8, Westgate, ION Orchard, Orchard Hilton and Holland Village
Conditions:
Redemptions are limited to 1 pint per user, and are while stocks last.
Enter promo code HaagenDazs at check-out to offset delivery fee of SGD $3. Promo code is only applicable for Haagen Dazs restaurants, and can only be applied once per user. This promo code cannot be used in conjunction with any other active GrabFood promo codes.
Due to overwhelming demand, delivery timings are projected to be longer than usual and may take up to 3h. We seek your patience and understanding on this.
If you do not see a Haagen Dazs outlet on the GrabFood app, it means that you are not in the delivery radius of a Haagen Dazs outlet and are not eligible for this promotion.
You need to have an existing Grab account with a verified e-mail address in order to use GrabFood.
Orders can only be made with GrabPay.
Grab reserves the right to change the promotion at their own discretion.
Only 100 pints are available at each outlet.
New to GrabFood? Download it at: grb.to/gfinstall
Let GrabFood help you save over $10 on Häagen-Dazs ice cream. Get a pint in a surprise flavour for just $4*!Due to overwhelming demand, our pre-orders are currently full but if you're within the proximity of the Tampines Mall, Westgate, Junction 8, Holland Village, ION Orchard and Orchard Hilton outlets, you can still place your order on the app this 2 & 3 June from 2-5PM.Only 100 pints are available at each outlet, so get yours while stocks last.*T&Cs apply.

GrabFood SGさんの投稿 2018年6月1日(金)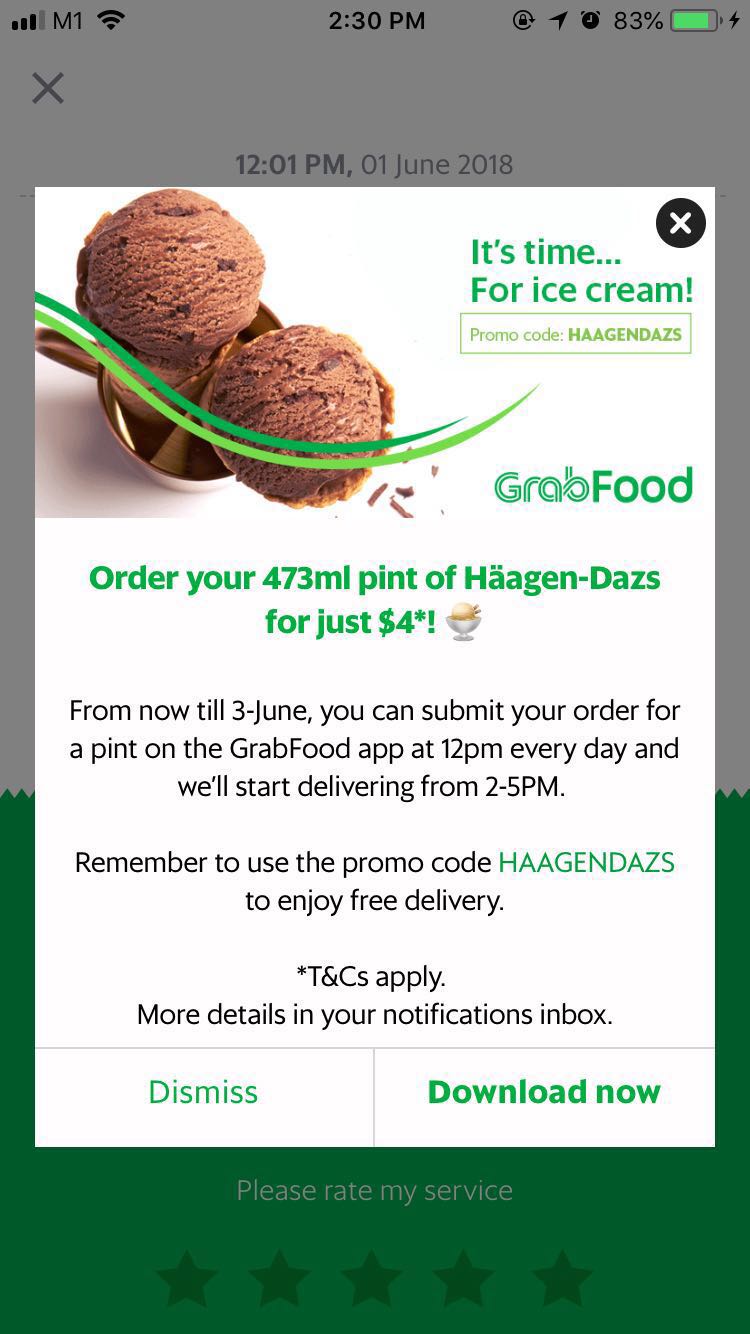 Flavours available: