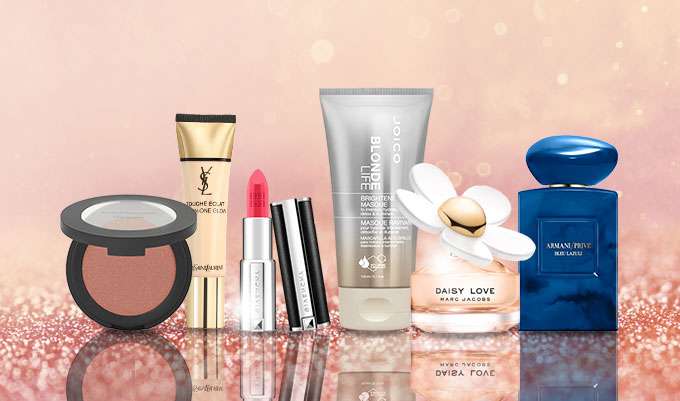 BareMinerals - Gen Nude Powder Blush
Join the blush revolution.
Warm up your complexion with this airy-light creamy pressed powder. Not only does it diffuse light for a more radiant complexion, but it also contains amino acids for longer wear on skin.
| | | |
| --- | --- | --- |
| | Givenchy - Le Rouge Mat Velvet Matte Lip Color | |
| | | |
| | High-density coverage for matte lovers. | |
| | | |
| | These totally wearable nude matte shades suit every skin type and colour, because the pigments are so intense that they'll show up on any skin tone. | |
AlfaParf - Style Stories
Share your story with your hair.
Everyone's got their own groove. And this new range of styling products will let you do your hair, your way. So you can tell the story you want.
Joico - Blonde Life
It's true: blonds have more fun.
This fantastic line of haircare products was developed for the intentionally blond - especially hair that's been bleached, lightened, or heavily processed. So you can live blond to the fullest.
Gucci - Bloom
An explosion of jasmine.
For white flower fiends, this heady, woody fragrance will satisfy every jasmine craving you've ever had. The drydown has just enough vanilla and orris root to keep things interesting.
Marc Jacobs - Daisy Love
Like picking berries on a spring day.
The bright orange cloudberry is front and center in this delicious sweet, woody-musky fragrance. It presents a departure from the usual floral 'Daisy' line by appealing to a new generation of perfume lovers.
Valentino - Valentino Donna Acqua
Crushed almonds and pear cocktail.
A fresh and young take on the almond-centric fragrance, paired with a juicy dollop of pear and frangipani. Perfect for summer dates.
Giorgio Armani - Prive Bleu Turquoise
Salt of the earth.
Even the bottle evokes the cloudy bottom of a tide pool. This winner of a marine fragrance captures the salty, earthy notes of rain on mossy stone. For the suave gent on weekends looking for some fun.
Prada - Luna Rossa Carbon
Suit up, it's go time.
Airy, regal and refined, this one begs you to put on a crisp shirt and a sleek suit. Notes of ambroxan and brushed metal mixed with spicy pepper and gritty coal leave the impression of someone intrinsically classy.
| | | |
| --- | --- | --- |
| | DermaQuest | |
| | | |
| | Leaders in plant stem cell technology. | |
| | | |
| | Leveraging the power of plant stem cells, this brand pairs advanced technology with beauty to create cutting-edge skincare solutions. | |
| | | |
| | Shop more > | |
| | | |
| --- | --- | --- |
| | The Organic Pharmacy | |
| | | |
| | Tapping the power of the natural. | |
| | | |
| | Hollistic homeopathic remedies for all your skin needs, delivered through beautifully organic ingredients. You won't find yucky chemicals in here! | |
| | | |
| | Shop more > | |
| | | |
| --- | --- | --- |
| | Tsaio | |
| | | |
| | Taiwan's hottest organic skincare brand. | |
| | | |
| | With a philosophy that's all about supporting earth's natural resources, this environmentally-friendly brand is set to take on the world with its organic ingredients, recyclable packaging, and skin-friendly products. | |
| | | |
| | Shop more > | |
Shop now