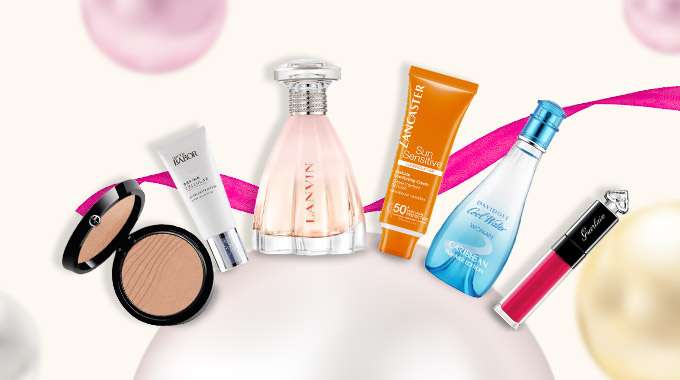 | | | |
| --- | --- | --- |
| | Babor - Doctor Babor Refine Cellular | |
| | | |
| | Corrects. Refines. Renews. | |
| | | |
| | The doctor is here; these products are designed to reduce redness, and balance uneven skin texture. The highly concentrated formula will also protect skin from environmental damage, while simultaneously correcting and refining for ultimate radiance. | |
| | | |
| --- | --- | --- |
| | Lancaster - Sun Sensitive | |
| | | |
| | The best Sunscreen for Sensitive Skin. | |
| | | |
| | This line contains fewer ingredients to cater to those who suffer from allergies or irritation. Besides protecting your skin, it will also give you an extra boost of natural sun-resistance while fitting you with a beautiful, lasting bronze tan. | |
Elizabeth Arden - Flawless Finish Everyday Perfection Bouncy Makeup
The Next Innovation of Flawless and Naturally Energized Skin.
The unique bouncy formula is a hybrid of powder and cream in a gel format. With ingredients like caffeine, ginseng, and peppermint oil, this will wake up your dull, tired skin, and have you looking well-rested all day.
| | | |
| --- | --- | --- |
| | Giorgio Armani - Neo Nude Powder | |
| | | |
| | It's You - But Better. | |
| | | |
| | A finishing powder that will give you the natural sheen of perfect skin. When the powder mixes with the skin's natural moisture, it becomes a veil-like liquid that does not cake or smear. Achieve natural beauty on-the-go! | |
| | | |
| --- | --- | --- |
| | Guerlain - La Petite Robe Noire Lip Colour'Ink | |
| | | |
| | The First Fearless Liquid Lipstick. | |
| | | |
| | Lightweight on the lips, with a range of 15 bold and beautiful shades to choose from. It's 8-hour long-hold formula ensures you'll have bright, colourful lips from sun up to sun down. | |
Matrix - Biolage R.A.W.
Real. Authentic. Wholesome.
Not only are these products good for you - they're great for the environment too! This line has something for all different hair types and uses natural ingredients without sacrificing on quality. Look great, feel great, and help the earth out too!
Renee Furterer - 5 Sens
A Blend of 5 Natural oils for Silky, Sumptuous Hair.
This line blends safflower, sweet almond, avocado, castor, and jojoba oils to create a formula for intensely hydrating, and nourishing hair products. Suitable for all hair types; give your hair that extra something.
Coach - Floral
Flirty, fresh, feminine.
This fragrance is inspired by Coach's signature leather tea roses. Top notes open with a splash of citrus coeur and a dash of pink peppercorn with pineapple sorbet. The heart reveals a floral bouquet before ending with creamy wood, patchouli and musky notes.
Lanvin - Modern Princess Eau Sensuelle
For the rebel in every woman.
A new version of Modern Princess (2016), this scent is a combination of velvety vine peach accords with floral shades of peony and jasmine. Spritz it on before you run off on your next adventure.
Davidoff - Cool Water Caribbean Summer Edition
This is Summer in a Bottle.
This cologne will bring you back to sandy beaches, lapping waves, and sunshine on your face. The top notes are lemon, mandarin, and grapefruit, followed by heart notes of basil sage and juniper, ending with notes of mint and sandalwood.
Ralph Lauren - Polo Ultra Blue
A Fresh, Masculine Scent.
Described as "fresh and salty", this cologne is has notes of citrus, mineral notes, and musk. Simple, yet sophisticated.
| | | |
| --- | --- | --- |
| | Filorga | |
| | | |
| | Over 35 Years of Medical Anti-Aging Expertise. | |
| | | |
| | Founded by a leading doctor in skin aesthetics, these products have been formulated with innovative ingredients, unique technologies, and scientific research. Get clinically proven anti-aging results at home! | |
| | | |
| | Shop more > | |
Shop now