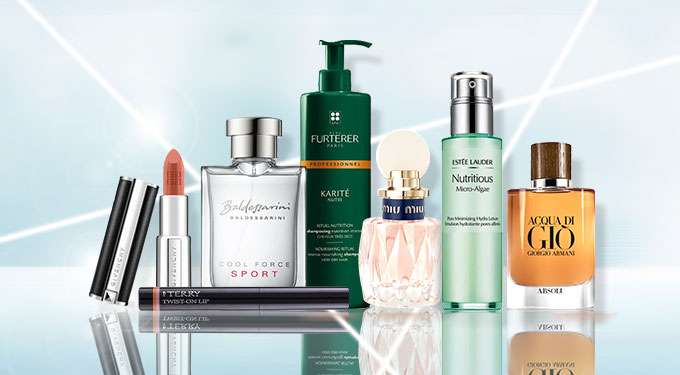 | | | |
| --- | --- | --- |
| | Babor - Babor SPA relaxing | |
| | | |
| | For high-quality at home spa time. | |
| | | |
| | With ingredients to refresh the mind and relax the muscles, these soothing and relaxing home treatment products are sure to become an essential part of your routine. | |
| | | |
| --- | --- | --- |
| | Estee Lauder - Nutritious Micro-Algae | |
| | | |
| | Pore-purifying algae for clearer skin. | |
| | | |
| | Got acne-prone skin? Tap into the purifying properties of sea algae to dissolve dirt and impurities, and get a shine-free look. | |
| | | |
| --- | --- | --- |
| | Guinot - Sun Logic | |
| | | |
| | Make sun protection a priority. | |
| | | |
| | Want high-performance skincare with the added bonus of high sun protection? The Sun Logic series offers anti-aging care with up to SPF50 for the ultimate all-round protection. | |
By Terry - Twist On Lip Dual Lipstick
2-in-1 multitasking liner and lip color.
Get the trendy contoured lip look with this dual-tone lipstick. With two complementary shades to outline and shape in just one swipe, this is your instant ticket to hotter lips.
| | | |
| --- | --- | --- |
| | Givenchy - Le Rouge Liquide | |
| | | |
| | Cushiony matte colour on a totally unique applicator. | |
| | | |
| | Saturate your lips with colour using the revolutionary new applicator on this lip product. With its hydrating matte formula and its fabulous colour payoff, it's well on its way to becoming a makeup bag staple. | |
Rene Furterer - Karite Hydra
Intense moisture for dehydrated hair.
Discover the power of sustainably-sourced Shea oil from West Africa, which promises to make your hair touchably soft and oh-so-lustrous.
Tigi - Bed Head Rockaholic
Get your punk rock look on.
From volume-boosting shampoo to texturizing sprays, these products guarantee you'll enjoy weightless, enviable style and a rocking good time.
Miu Miu - L'Eau Rose
Look pretty in pink.
This new 2018 flanker is a gorgeous variation on the original Miu Miu. With dewy fresh notes of peony and lily, it smells exactly like spring in a bottle.
Nina Ricci - Bella
A sweet 'n sour apple delight.
Dive into this daring and magnetic new fragrance that celebrates love and friendship with rhubarb, mandarin, and vanilla.
Baldessarini - Cool Force Sport
A woody aquatic pick-me-up.
Newly launched in 2018, this scent features pear, mandarin and neroli over a salty wet base that evokes the seaside.
Giorgio Armani - Acqua Di Gio Absolu
Revel in aromatic ocean notes.
Indulge in your own sense of style. With notes of the salt sea, wood, patchouli, and tonka bean, this will satisfy anyone looking for a new signature scent.
Shop now