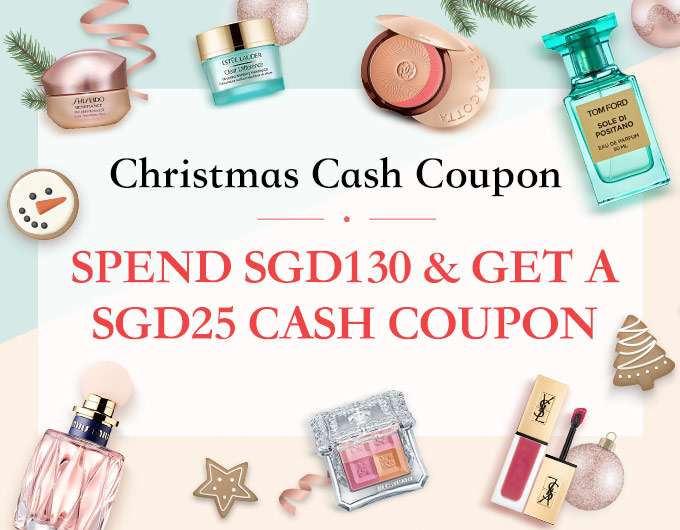 Don't miss MASSIVE Christmas savings! Your holiday shopping just got happier.
Spend SGD130 and get a SGD25 Cash Coupon for your next shopping spree.
TIP: Once you meet the minimum spend, you'll automatically receive your Cash Coupon code by email on 13 Dec 2018. Please make sure you are subscribed to our mailing list in order to receive this email.
Shop now
| | | | | |
| --- | --- | --- | --- | --- |
| | | - Minimum spend SGD130 to get a SGD25 Cash Coupon | | |
| | | | | |
| --- | --- | --- | --- | --- |
| | | - Minimum spend is calculated based on order total after all other discounts have been applied | | |
| | | | | |
| --- | --- | --- | --- | --- |
| | | - Coupon will be sent out on 13 Dec and will be valid until 31 Jan 2019 | | |
| | | | | |
| --- | --- | --- | --- | --- |
| | | - Coupon can be used at checkout on a minimum spend of SGD90 | | |
| | | | | |
| --- | --- | --- | --- | --- |
| | | - Offer is not applicable to Hong Kong, Taiwan, Macau, or Turkey orders | | |
| | | | | | | |
| --- | --- | --- | --- | --- | --- | --- |
| | --- | | Check out more exciting deals | | --- | |