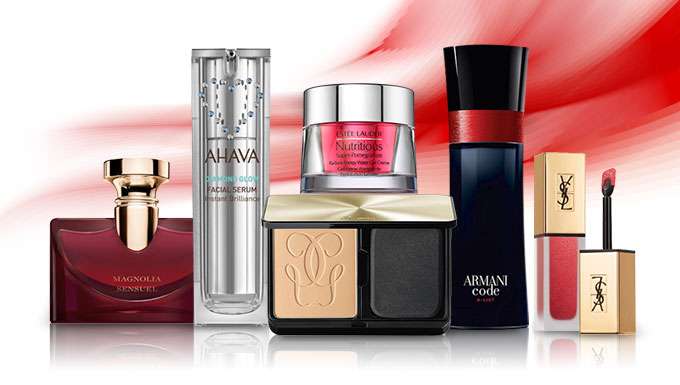 | | | |
| --- | --- | --- |
| | Ahava - Diamond Glow | |
| | | |
| | Diamond-infused anti-aging care. | |
| | | |
| | The pinnacle of luxury skincare. Unveil smoother, firmer skin that is radiant on the inside and out. This mineral and diamond-infused formula will add a subtle, irreplaceable glow that no other product can mimic. | |
| | | |
| --- | --- | --- |
| | Estee Lauder - Nutritious Super-Pomegranate | |
| | | |
| | Rejuvenating fruit power in a jar. | |
| | | |
| | Precision-crafted super pomegranate complex allows your skin to renew itself overnight. The potent combination of moisture-rich ingredients and fruit extracts will detox and rejuvenate. | |
| | | |
| --- | --- | --- |
| | Yves Saint Laurent - Tatouage Couture The Metallics | |
| | | |
| | Step up your lip game. | |
| | | |
| | A new range of metallic shades has landed, and these will make heads turn. Each comes with the beloved tatouage applicator, which lets you create defined edges for the sharpest-looking lips ever. | |
Phyto - Phyto Specific Line
Champion products for naturally curly hair.
Whether you have naturally curly or relaxed hair, this range lets you achieve the bounciest, shiniest locks ever while repairing damage and adding hydration.
Redken - Chemistry Shot Line
Professional aftercare for hair.
Give your hair that extra level of pampering with these salon-grade products! Use before and after chemical treatments to dramatically extend hair colour and reverse damage.
Bvlgari - Splendida Magnolia Sensuel
Exude mystery and intrigue.
As one of the shortest-lived flowers, magnolias are prized for their rarity and mystery. Exude the mysterious allure of this precious flower on evenings out on the town.
Cartier - Carat
The smell of success.
The olfactory wizards at Cartier have managed to create a perfume that smells exactly like what we think diamonds should smell like, and it's just as luxurious and rich as you'd expect.
Giorgio Armani - Armani Code A-List
Pair it with evening wear formal.
Tonka and green mandarin make this a sophisticated fragrance that goes perfectly with your tuxedo. Plus, it's a limited edition release, so get it while it's in stock!
Miller Harris - Tender
Be a one-of-a-kind enigma.
Crafted from notes of saffron, ink, rose, and tulip, this is a unisex fragrance for true aficionados who like their perfumes to be totally unique. Quirky yet complicated, it's sure to make a statement.
| | | |
| --- | --- | --- |
| | Kocostar | |
| | | |
| | Quality Korean skin, nail & foot care. | |
| | | |
| | The brand that brought you those famous insta-worthy Lip Masks is here! Slap one on and enjoy a Korean spa in your very own home. | |
| | | |
| | Shop more > | |
Shop now