If you are unable to view this email, Click here to see it in your browser.
To ensure you receive our newsletter, please add "[email protected]" to your address book.
| | |
| --- | --- |
| | |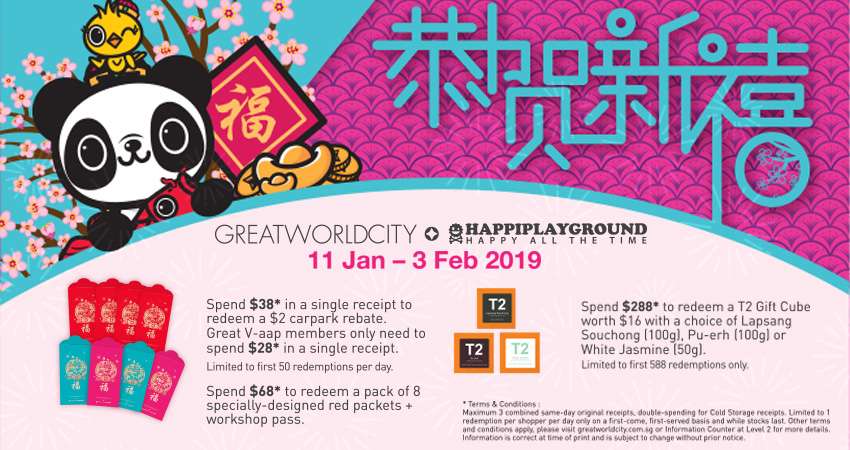 Huat are you waiting for? Be the first 88* to get daily prosperity ang bao! 

Receive up to $120* worth of cash vouchers! Festive Reunion Set Menu for 4 pax starts from $298*. Promotion is valid till 19 Feb 2019. 

Double Your Happiness this festive season and enjoy $65* for 2 GNC Multivitamins! Promotion is valid from 1 - 28 Feb 2019. 

Exquisite festive delights and treats by Imperial Treasure will be sold during this Lunar New Year for exceptional value. Promotion is valid till 19 Feb 2019.

Receive We Bare Bears Ang Baos when you spend a minimum of $18*. 

Usher in good fortune with another version of a delicious but healthier Yu Sheng using tangy Yuzu Plum Vinaigrette!  

Be CNY Ready with Scanteak Lunar Reunion Sale with up to 55%* OFF teak deals. Promotion is valid from 31 Jan to 24 Feb 2019.

Free RayBan Sling Bag with any purchase of $250* & above.  

For a limited time only, get fiery with the HongPow! Ma 'Luck' Chicken! Promotion is valid till 20 Feb 2019. 

Usher in the New Year with a True Fitness membership or Personal Training sessions and stand to win a Eu Yan Sang Hamper! Promotion is valid till 19 Feb 2019.

Save $88 on international branded frames and sunglasses with $288* & above purchases. Sale items included. Promotion is valid till 28 feb 2019. 

 

 

*Individual terms and conditions apply. Not valid with other promotions, discounts and/or promotional vouchers. Please check with respective stores for more details.

LEVEL 1

Atrium

 

11 Feb | Lion Dance Performance 

 

12 - 17 Feb | Pokemon Activation by Qi Ren Events

 

18 - 24 Feb | Hush Puppies Apparels Fair 

 

Event Space A 

 

Now till 19 Feb | CNY HappiPlayground Photo Opp

 

25 Feb - 3 Mar | Best Denki Fair

 

 

Basement 1 

The Market Square

 

Now till 3 Feb | WATSONS Fair

 

4 - 10 Feb | Books Fair by AR Overstocks

 

11 - 17 Feb | Samsonite Luggage Fair

 

25 Feb - 3 Mar | WATSONS Fair

 

Level 2

Kiosk 1, outside Playstore by Kidz Story

Watches & Services

 

Kiosk 2, outside Gifts Greetings 

Holystic Sneaker Laundry

 

Kiosk 3, outside Bangkok Jam 

DLSK Nonya Kabaya & Cheongsams 

 

Kiosk 4, outside Challenger 

Yi Yi Jewellery Pavillion

 

Level 1

Kiosk 1, in front of Eu Yan Sang 

11 Feb - 10 Mar | True Fitness

 

Basement 1

Pushcart, in front of Kuriya Japanese Market 

Tupperware

 

Kiosk, in front of Reebok 

Baker's Brew

 
 

AMAZONIA (Opening 1st Feb)

The wait will finally be over! AMAZONIA will be back BIGGER & BETTER! Opening this 1st Feb, be sure to be amazed with new themed rooms and more!

Expect a wide selection of the freshest fish cooked in a variety of ways with signature selection of homemade gourmet Asian sauces and seasonings such as the Grated Old Ginger Sauce, Spicy Nonya Sauce and Mentaiko Mayo topping. 

Ho Fook Hei's specialty Soy Sauce Chicken is prepared the traditional Cantonese way, using a time-honoured recipe passed down through the years.

A perfect choice for gathering with business partners or loved ones, Imperial Treasure Steamboat, with a diverse selection of soup bases, uses only the freshest and finest ingredients to serve up an excellent steamboat.

Nestled in the corner of the Great World City office lobby with a strong focus on coffee. MAVRX Coffee Bar has an expanded menu to include a selection of aromatic teas and special lattes. 

Popular for its signature crispy kaya toast and nostalgic coffee, pop by Ya Kun Kaya Toast for its nostalgic local food products, cosy ambience and customer-centric service.

 
 
This message is confidential and intended only for named addressee(s), please notify us immediately and delete all copies if you have received in error. We do not guarantee that this email or its attachment(s) is secure, error-free or virus-free. Neither the Company nor the sender accept any liability for any errors or omissions in this message or any damage caused therefrom.