If you are always running out of mobile data, we feel your pain! In the past, you will need to pay a high premium for additional data on top of your regular monthly plan but now with higher demand and the arrival of the 4th telco, it has become much more affordable. In a bid to win more loyal customers, the telcos are now offering lower price plans with higher bundled data. So which company offers the best no contract plan with high bundled data? We compare them all for you!
First up, the most popular amongst young people who need the highest bundled data:
CIRCLES LIFE
In a bid to win customers from Singtel and Starhub, Circles Life is offering their usual $28 plan bundled with 20GB at only $18 for customers who port over their postpaid numbers from the two telcos! Plus you get S$120 cashback with the number transfer!
If your contract is over, hop on to Circles Life to enjoy this limited time offer now!
If you are not a Singtel or Starhub customer, we will not recommend the usual $28 plan from Circles Life as the other telcos are offering a more attractive package!
SINGTEL

To attract the younger customers, Singtel launched a new website GOMO.SG. With its vibrant colourful design and lower priced plan with high bundled data, it is definitely appealing to the younger generation. Pay only $20 for 20GB data with 200 mins + 200 SMSes + Free caller ID + Free incoming calls! Plus there's no contract tying you down!
M1

BQ thinks M1's offer is equally appealing as Singtel's even though they are offering only 15GB for $20! This is why: they are also offering free-flow weekend data! If you are always out and about on weekends, this will be perfect for you with no limit on your usage! The plan also comes with 100 mins and 100 SMS/MMS. (If you need more calltime, then opt for Singtel's!)
The last telco is of course Starhub, but BQ thinks that their offer is the worst amongst all telcos. C'mon, Starhub, you can do better!
STARHUB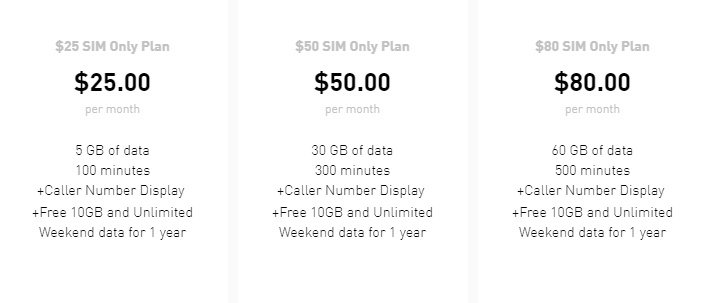 Their cheapest SIM Only plan is priced at $25 bundled with 15GB and unlimited weekend data for 1 year. That's $5 more than M1's similar plan! Plus they do not offer any bundled SMS so any SMS that you send is chargeable.
Lastly, here's a table of all the plans for your comparison at a glance!
*Plan prices are accurate at time of reporting - 3rd April 2019. Please check the official sites for the latest prices.